A Stroke Awareness day was held in The Forum Norwich on 5th May 2015. This initiative was developed by Eddie Pleban, from the 'Different Strokes' group, who made a remarkable recovery from a brainstem stroke in 2011. He aims to raise awareness of stroke, health changes to prevent stroke and stroke services in Norfolk. A variety of local stroke support groups and charities were represented as well as Norfolk Stroke Services including the acute stroke unit, rehabilitation and early supported discharge.
PhD student, Ciara Shiggins, manned a UEA stand, promoting ABIRA activity, alongside people with aphasia post- stroke and their families. The aim was to talk with members of the public and answer questions about aphasia, local services and current research.
A key part of the information provided concerned services for people after they have been discharged from stroke rehabilitation. For example, Ciara facilitates the Aphasia Café, a weekly peer-support group for people with aphasia post stroke and their families. The aims of the Aphasia Café are to reduce social isolation, depression and anxiety post stroke and it allows people to use adapted communication techniques and discuss difficulties they may be facing.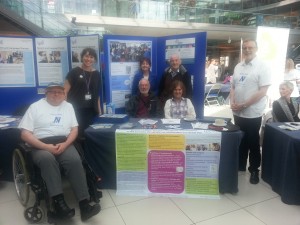 Information was also provided about ABIRA activity local to Norwich led from UEA. Ciara discussed involvement in different local initiatives such as the Conversation Partners scheme which is focused on training student Speech and Language Therapists through weekly visits with people with aphasia. The initiative which was developed by Connect, UK, and allows students to develop their communication skills when working with people with aphasia. It also provides people with aphasia the opportunity to reconnect with their communication and increase their social participation.
A second initiative, led by ABIRA member, Dr Simon Horton, is Communication Partner trainers. These trainers have aphasia themselves and are involved in the development of aphasia research in the University. They also contribute by educating healthcare professionals in better communication with those with aphasia.
The Stroke Awareness Day was a great success. Members of the public were provided with information and leaflets on all of the above initiatives and people who have experienced stroke expressed interest in the activities. People with aphasia and their families had the opportunity to share their experiences. Links were also made between the stroke services in order to make them more efficient for stroke survivors.